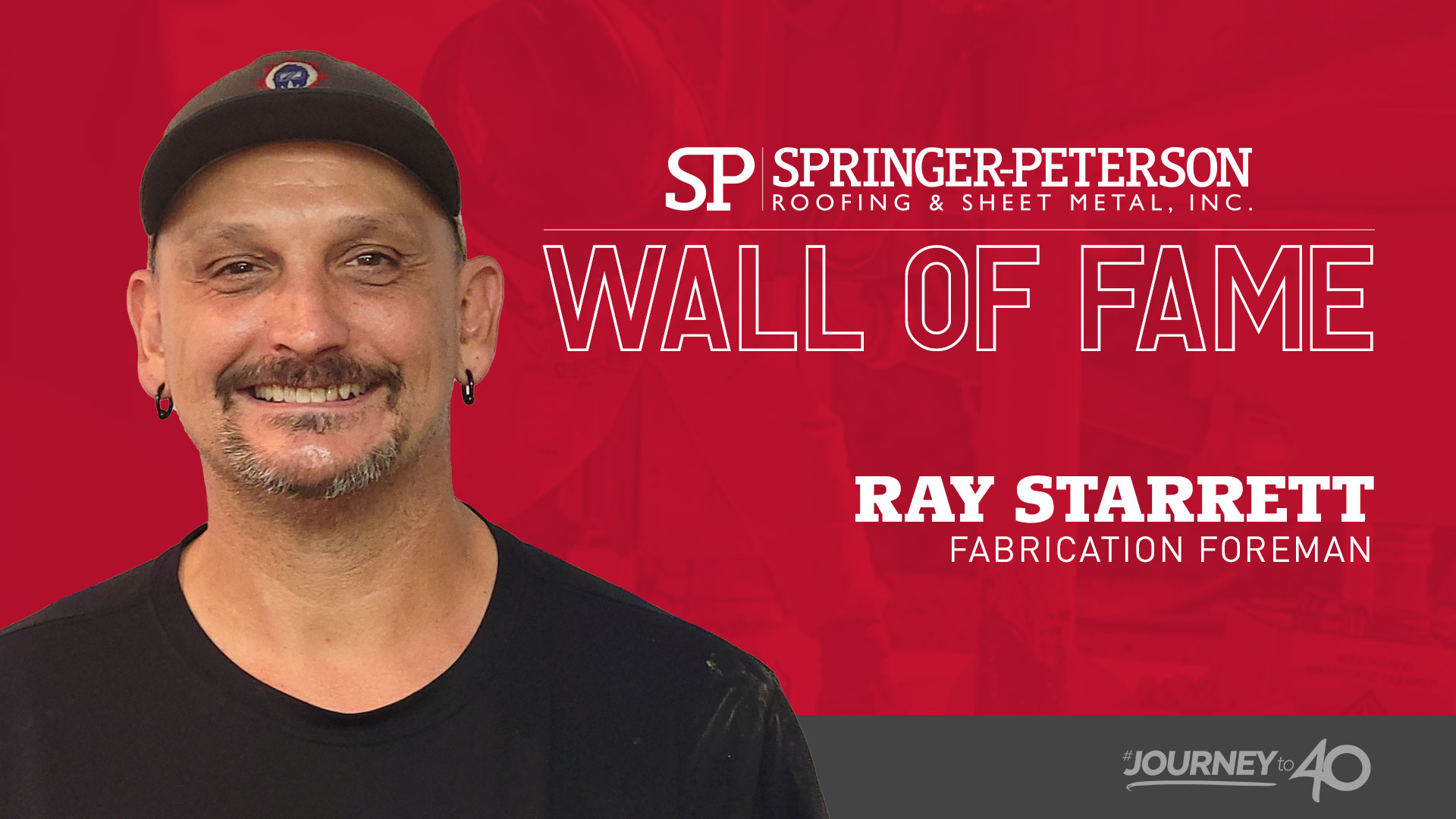 Our year doesn't have enough months in it to highlight all of our Wall of Famers, the ones who have made this #journeyto40 one worth celebrating. For this month, in honor of our 40th year in business, we are excited to introduce to you, Ray Starrett, as our Wall of Famer. Ray has been with the Springer-Peterson family for a total of eight years and shows his dedication to our employees and customers daily. Thank you Ray for all you do!
What are your main responsibilities in your role at Springer-Peterson?
My main responsibility is overseeing my helpers. I need to train them to be safe and do their job correctly. A main responsibility of mine is to ensure the customers' requests are done exactly as they have requested.
When and why did you become involved in the roofing/fabrication industry?
From the young age of 16, I became involved in Fabrication. I attended Travis Vo-Tech and started welding at 17. At Springer-Peterson, I was hired as a helper in the beginning and really liked the work. We had so many different and unique projects we were working on and that in itself actually helped grow my interest in the field.
Tell us about your first roofing/fabrication experience?
My first experience was doing an install on a roof that was run by our previous department. The install was very specific and detailed plus it was imperative that things happen at certain times. Safety was a big concern because there was a big hole in the roof and we were literally hanging in the hole to do the job. It was definitely different from what I was used to but we completed the job successfully, and safely.
What is the most memorable roofing project that you have been on and why was it so memorable?
All of the Disney jobs are memorable because of their uniqueness. We work with wonderful people at Disney who praise the quality of my work and tell me that I'm doing a great job. I also appreciate that they make sure to express these positive comments to our upper management.
How would you describe working with Springer-Peterson?
It's always a challenge because of the different and unique jobs we do each day. Each day brings something new for us to learn and challenges to overcome.
You have many years invested in Springer-Peterson, what has kept you with the company for so long?
I really like working for Rob, and I like our team of upper management. I also really enjoy being able to train new employees.
What characteristics make you successful in your daily job?
I'd say experience and strong leadership. I have the ability to pass on my knowledge to employees who are newer in the trade and help guide them to become successful.
Tell us your proudest moment.
My proudest moments are when one of my helpers starts teaching me. That means I am successful in correctly training them.
What is your most rewarding experience?
One of my most rewarding experiences was when I was promoted to a Foreman. That was quite an accomplishment for me.