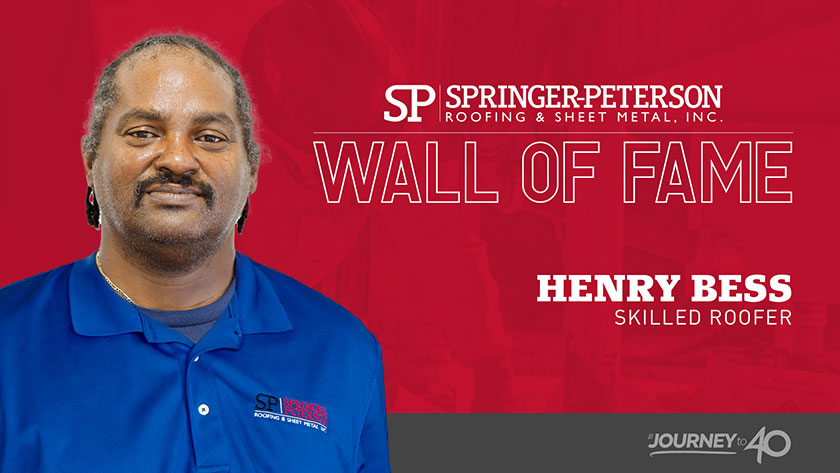 This month, in honor of Springer-Peterson's 40th Anniversary, we've selected Henry Bess as our Wall of Famer!
We recently sat down with Henry and asked him some questions about his long standing career at Springer-Peterson…
What are your main responsibilities in your role at Springer-Peterson?
To get the job done! All of this while making sure everyone is safe and goes home to their family.
When and why did you become involved in the roofing industry?
I started in the roofing business in the 1980's so I've been doing this job for 30+ years. My foreman at a previous company joined Springer-Peterson and I followed him here. It's hands-down the best decision I ever made.
Tell us about your first roofing experience?
The first experience I had in roofing was to run a hot kettle on the ground. It's not that I was afraid to be on the roof but I wasn't allowed quite yet!
What is the most memorable roofing project that you have been on and why was it so memorable?
The one that comes to my mind is the "rubber roof" like the one we are doing for Publix. I think it is a very interesting process especially when you compare it to 30 years ago.
How would you describe working with Springer-Peterson?
It's absolutely great! I would describe it as a fun, respectable, and honest company.
You have many years invested in Springer-Peterson, what has kept you with the company for so long?
Yes, I've been here for 30 years. Simply, the people at Springer-Peterson respect me and trust me to do my job. That means a lot.
What characteristics make you successful in your daily job?
My philosophy is that the more I work, the more I learn. What makes me successful is that I truly like to come to work! In fact, the only time I ever miss work is when I need to go to the doctor.
Tell us your proudest moment.
I was very proud to work on the Hyatt Hotel in Orlando many years ago. During that time, it was the tallest building I had ever been on. It was an amazing job to be on!