In the pursuit of
Service excellence
Recognition/Awards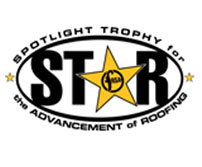 S.T.A.R.—Spotlight Trophy for the Advancement of Roofing
The Florida Roofing and Sheet Metal Contractors Association (FRSA) developed S.T.A.R.—Spotlight Trophy for the Advancement of Roofing, a prestigious industry Awards program. S.T.A.R. recognizes members' unique and outstanding projects. The awards are determined by a panel who evaluates the entries for inclusion and outstanding performance in each category.
To top it off, there is typically a FRSA's S.T.A.R. Awards and Officer Installation Dinner including a presentation profiling winning industry projects. This Awards dinner is always one that the industry organizations look forward to as it provides an opportunity to network with contractors, manufacturers, architects and exhibitors in a relaxed, business setting.
Springer-Peterson has earned numerous S.T.A.R. awards in various categories. We are proud and grateful to have our work recognized by the FRSA.
Here are the S.T.A.R. Awards – Category definitions:
Low Slope – Modified Bitumen/Single-Ply (TPO, PVC, EPDM)/BUR-Tar & Gravel/Metal; Any variation of the above types of low-sloped roofing systems.
Steep Slope – All shingle, tile, metal, slate, wood shake/shingle, or composite material applied as a roof system to a 2:12 or greater roof slope.
Community Service Project/Charity Roof – Any non-profit roof installation that can be documented as a whole or partial donation (minimum 50% free materials and/or labor).
Craftsmanship in Roofing – A roof system installation where a superior level of workmanship was evident and made the completed project unique in fit, finish and/or use. Open to any size or type of roof system.
Springer-Peterson's S.T.A.R. Awards in recent years:
2020
Low Slope – 1st Place – Hillsborough County Court Annex
2019
Community Service – 3rd Place – Specialty Hearts Farm
Low Slope – 2nd Place – Stewart Health Care
2018
Sustainable – 1st Place – Sun-n-Fun
Low Slope – 2nd Place – Tampa Maid Foods
Specialty Metal – 2nd Place – Our Lady of Angels
2017
Steep Slope – 2nd Place – Revoy Residence
Specialty Metal – 3rd Place – Revoy Residence