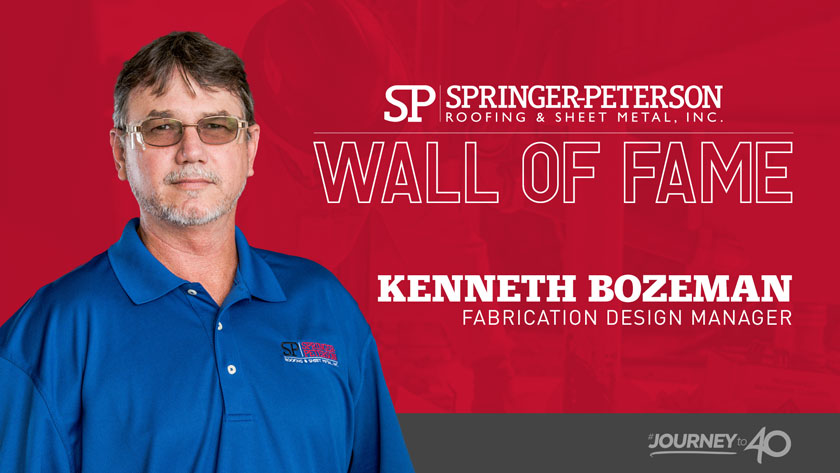 As we virtually celebrate Springer-Peterson's 40th Anniversary, we are thrilled to have selected Kenneth Bozeman as our Wall of Famer this month.
Below are several questions we asked Kenneth about his 31-year tenure with Springer-Peterson.
What are your main responsibilities in your role at Springer‐Peterson?
My role is one that wears many hats in the fabrication department. One of my main responsibilities is creating shop drawings and CNC programs for the plasma cutting table. You will find me on any given day ordering materials for jobs as well as managing the shop inventory. Other job tasks include but are not limited to taking care of walk-in customers, machine maintenance, invoicing, managing employee timesheets, and general training.
When and why did you become involved in the roofing/fabrication industry?
Thirty-years ago, I was searching for a much needed job and it was then that I was hired here. I found a home in Springer-Peterson.
Tell us about your first roofing/fabrication experience?
My very first was cutting an access hole at Disney Living Sea and having to tarp off the top of the aquarium using a very small boat, surrounded by sharks!
What is the most memorable project that you have been on and why was it so memorable?
My first experience with the sharks definitely tops the list for being memorable. The Hyatt hotel project in Kissimmee would rank second. David Rizener and I had to tarp off the lobby so debris wouldn't fall 18 stories and hit customers. Talk about a challenging experience! But, we managed to get the job done and done well.
How would you describe working with Springer‐Peterson?
It's very fulfilling!
You have many years invested in Springer‐Peterson, what has kept you with the company for so long?
It's the peace of knowing that all the work I do never goes unnoticed and unappreciated. Also, it's the feeling of being part of a family or team.
What characteristics make you successful in your daily job?
Patience and just having a good outlook on life!
Tell us your proudest moment.
My proudest moment was the design of the aluminum gold domes on the top of Our Lady of Guadalupe roof. We designed them here in-house. Our fabrication team put them together and installed them. What an amazing project!
What is your most rewarding experience?
My most rewarding experience was the 2nd place award by the FRSA for the design of the Lady of Guadalupe aluminum gold domes.