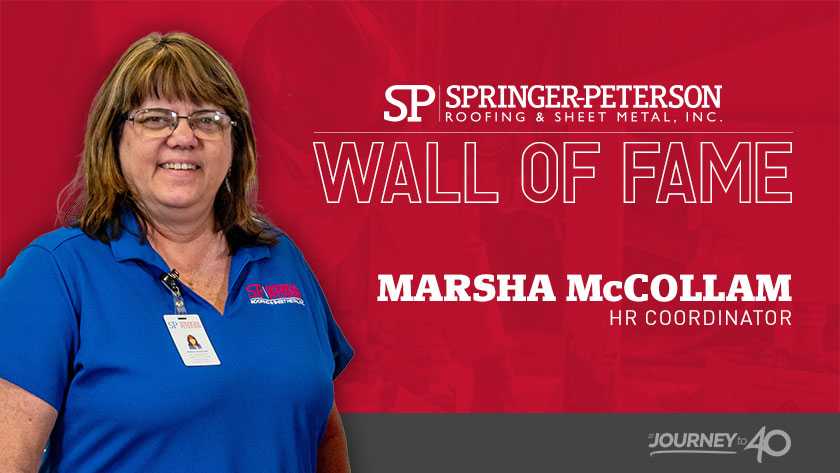 It's been a great time to reflect on our company history and recognize our all-star employees. For Springer-Peterson's 40th Anniversary virtual celebration, we are excited to announce that we have selected Marsha McCollam as our Wall of Famer this month.
What are your main responsibilities in your role at Springer-Peterson?
My main responsibility here at Springer-Peterson is screening and processing new employees with new hire paperwork for all departments. I also maintain their employee file in digital format and paper. My role also includes gathering information and processing employees for a variety of different job clearances. For example, School Board Badges in order to have access to school property through the Jessica Lunsford Act.
When and why did you become involved in the roofing and or HR industry?
When I joined Springer-Peterson, I worked in Operations ordering materials for projects and maintaining job cost reports, along with processing new hires. I was offered the responsibility to move over into the HR department to assist the new HR Director. It was a great opportunity for me to learn more about Springer-Peterson.
Tell us about a memorable HR experience you've had since working at SP?
There's not one! Each day is a memorable experience in HR at Springer-Peterson.
How would you describe working with Springer-Peterson?
I would describe working with Springer-Peterson as a very rewarding opportunity, the HR department encourages me to do the best that I can do. Our department has a motto, "work smarter, not harder."
You have many years invested in Springer-Peterson, what has kept you with the company for so long?
It's because Springer-Peterson challenges me to learn every single day. Also, the company treats their employees with respect.
What has been your most rewarding experience since being at Springer-Peterson?
My most rewarding experience with Springer-Peterson is coming to work each day. My position is very fast paced and makes me think about the job I perform on a daily basis.
Is there a time that you did something that made you really proud in your position at Springer-Peterson?
I'm proud of how the company treated the employees during the coronavirus pandemic. Springer-Peterson supplied meals to the field and office employees so that we did not have a need to leave the office and be out among other people. Springer-Peterson remained open and we worked the entire time.