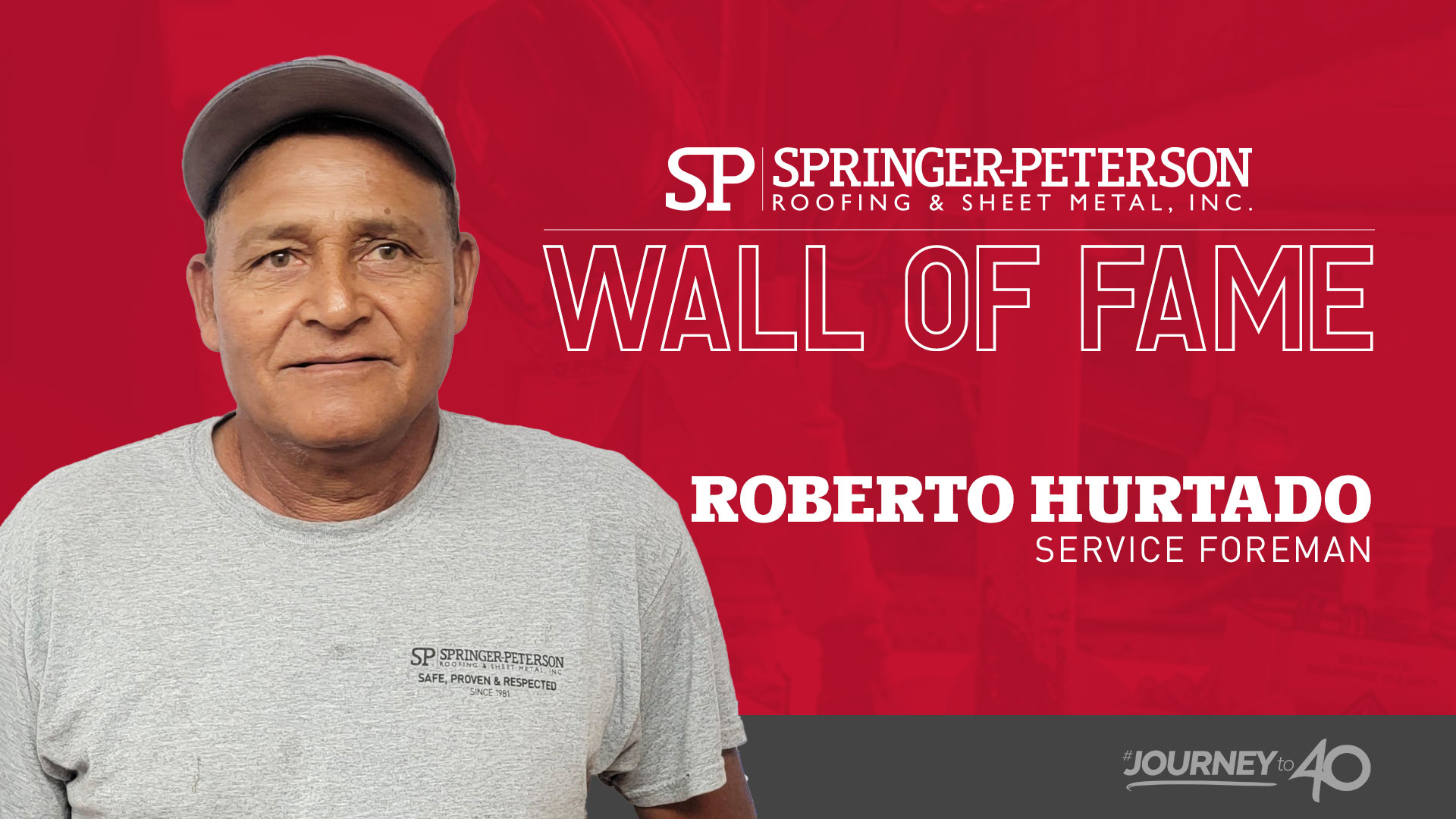 35 years and counting. That's how long Roberto has been part of our Springer-Peterson family. For Springer-Peterson's 40th Anniversary virtual celebration, we're thrilled to have chosen Roberto Hurtado as our Wall of Famer this month!
What are your main responsibilities in your role at Springer-Peterson?
My main responsibility is to do a quality, good job. It's also to make sure the employees that are working with me are safe and that the customers receive 100% satisfaction.
When and why did you become involved in the roofing industry?
My first job in roofing was here at Springer-Peterson. I moved here from California and lived right down the road from Springer-Peterson. At that time, there were not a lot of companies in the area and Springer-Peterson was so close to home. I applied to another roofing company that was also close by and they told me they could hire me in about one week. When I applied to Springer-Peterson, they needed me to start right away so here I am! In fact, I was the first Spanish-speaking employee to work here.
Tell us about your first roofing experience?
I had never worked in roofing before and back then, we were rolling and mopping asphalt at a school. It was a lot of hard work and that asphalt sure was hot. There were many guys that would get a splash here or there on their hand or arm and it would hurt really bad. A lot has changed in the industry over the years and safety is number 1.
What is the most memorable roofing project that you have been on and why was it so memorable?
There were a couple of projects that were memorable. One project was a huge Tremco job in Tampa. The other was One Place, a hotel in Tampa. It was a really tall building which was the first time I had been so high up on a job before.
How would you describe working with Springer-Peterson?
It's a good company to work for and I am treated very well. If you want to earn good money, you have to come in and be willing to learn. Someone can't just ask for money if they aren't knowledgeable in what they are doing.
You have many years invested in Springer-Peterson, what has kept you with the company for so long?
I would have to say watching the growth of the company over the years. I remember when I first started and we had older trucks and equipment. When Rob Springer became Vice President, he began getting new trucks and better equipment. We always had what we needed to get the job done but of course, it was great when we got brand new vehicles and equipment.
What characteristics make you successful in your daily job?
I am a hard worker combined with having a really great group of foremen when I started who trained me really well. If you like what you do, you will learn it and grow with the company.
Tell us your proudest moment.
I have worked in sheet metal, shingles, and pretty much all areas of the company. Two projects that I am especially proud of would the US Post Office in St. Pete and the Sun City Center. Both jobs were completed with no problems and in a timely manner.
What is your most rewarding experience?
My most rewarding experience is working for a good company each day and giving the customer 100% satisfaction. This keeps us as the number one roofing contractor in Central Florida.