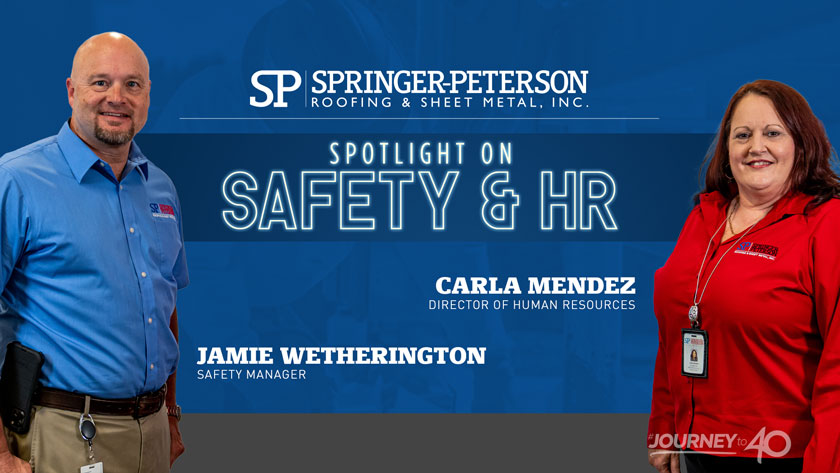 Employee Onboarding with Human Resources & Safety at Springer-Peterson
By: Carla Mendez, HR Director and James Wetherington, Safety Manager
Working for a smaller company with a dedicated Human Resources and Safety department is truly a blessing for our employees. Our employees have people who are committed to their employment journey here at Springer-Peterson as well as someone there making sure they make it home safely each and every night to their families.
Finding great applicants to become employees is often a challenge in the roofing industry. We are always looking for hard-working, respectful, responsible, and driven individuals to join the team here at Springer-Peterson. We advertise often via social media, job boards, and even strategically place "Now Hiring" signs around the county. Recently, we also placed large banners on couple of vehicles to advertise on frequently traveled roads in the area.
Applicants do not necessarily need to be experienced in roofing but a strong work ethic and longevity with other organizations is definitely a plus. Applicants can apply online at www.springerpeterson.com/careers or in-person at our office. Due to COVID-19, we have placed a box near the entry to the Main Office where applicants can pick up, complete, and return applications. Once applications are reviewed, the applicant is called for an interview by a department superintendent or manager. If the applicant is a good fit for Springer-Peterson, applicants will be sent for a pre-employment drug screen in order to comply with our Drug Free Workplace.
Once applicants have successfully completed the pre-hire requirements, they get scheduled for their HR Orientation. At this orientation, the new employee completes required internal documents as well as regulatory paperwork such as a W-4 form and I-9 document for verification through E-Verify. Each new employee will also hear about all of the great benefits available and the timing of eligibility for each of those. Once all new employees have finished their regulatory paperwork and have learned about the benefits that Springer-Peterson offers, the Safety department is the last phase before our new employees enter the workforce.
As new employees begin the Safety portion of their onboarding, they are scheduled for training that is customized to various learning styles. For example, we will share a video that discusses all of the safety features necessary to be successful and safe on the job each day. In addition, we use a PowerPoint presentation to provide more details related to Springer-Peterson. There is also a one-on-one session to review the Safety Manual for each new employee. They will have the opportunity to ask specific questions of the Safety Manager to make sure they understand and are clear on what has been covered. This detailed training helps to build rapport and trust within the department.
As a daily practice, Safety does many audits on jobsites and even internal jobs at our main offices. We focus on the principle "You will go home safe everyday". We owe each other the rights to knowledge and tooling that ensures each person makes it home safe.
As continuing education for our employees, each week we facilitate a training session with at least one entire crew. This training could range from forklift certification all the way out to competent fall protection. Building a standard training outline is what keeps everyone on the same page as they learn the same curriculum.
We are proud to be the leaders and influencers of Human Resources and Safety at Springer-Peterson. And always remember, "Employees are our greatest asset" and "Safety is a tool on the job that EVERYONE should be using".
Best,
Carla Mendez, HR Director
James Wetherington, Safety Manager