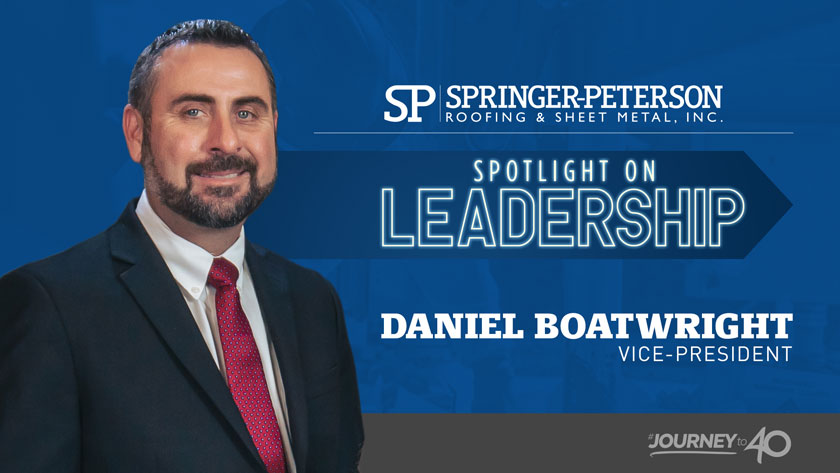 As we focus on our #Journeyto40 and beyond, we sat down with Daniel Boatwright to learn more about our company's future outlook and his take on the roofing industry. Let's gain insight into his perspective…
What is your vision of Springer-Peterson in the next five years?
The vision is to be the leading roofing contractor in Central Florida providing quality, value and experience within our community.
It's also to have a trained team of individuals with a passion to continue the natural and necessary evolution of our organization. All this through personal growth and improvements to serve our clients with an exemplary standard of care.
What will be the post-COVID-19 impact, if any, on our company and industry?
It would be recouping lost time with manufacturing products to produce roofing products.
What are your expectations from employees, across the company, to keep this company moving forward?
Branding our capabilities throughout the company and talking the same language. Everyone needs to recognize we are one company and one team. Training the field and creating a path for the future is also important. Cross-training is definitely on the radar.
Where is our biggest opportunity for growth?
Creating new relationships!
Who are our target customers today and in the future?
No matter what, we need to continue nurturing our current customer base. I see us forming new relationships with industrial, mechanical contractors, and property management groups.
What are our greatest risks for meeting our profit targets in the future?
I would say it's not controlling the cost of labor, materials and expenses to match current bidding/sales on a constant basis. As a roofing company, you carry a lot of liability dealing with opening up a customer's building to the weather.
What do you think is the number one reason customers use us?
Quality!
What is the greatest challenge the industry is facing now and in the future?
I would say it's the workforce and more specifically, tradesmen.
What do you think the main industry differences between pre- and post- COVID-19?
The main difference is how to manage any new rules and regulations.
What innovations would you expect to see within the next decade in the roofing industry?
I honestly believe we may not see any more hot asphalt roofs applied. Like with any new product, you always see new tools for installation.
What are some common misconceptions about our industry? How do you deal with them?
"A roof is a roof and all roofs are the same." is a common one.
Educating the customer is the first goal in these cases. In some cases, it can be difficult and frustrating. Ultimately, we provide a partnership with manufacturer and our tradesmen to deliver a successful, completed project. The team must work together as a true team in order for each part to work well.